Bradley Downton F1 2011 Career Season 1 is the first career season of Bradley Downton F1 2011 Career on the F1 2011 Game. The original calendar consisted of twenty rounds, including the inaugural running of the Indian Gran Prix before the cancellation of the Bahrain Grand Prix. Pirelli returns to the sport as tyre supplier for all teams, taking over from Bridgestone. Red Bull Racing are the reigning Constructor's Champions. Red Bull Racing's Sebastian Vettel is the defending Drivers' Champion, one of five World Champions appearing on the grid.
Report
[
]
Williams rookie Bradley Downton took pole in a drying qualifying session by 4 tenths of a second over Jenson Button. The race started wet but dried throughout and Downton set the pace with it, cliching his first Pole, Podium, Win, Fastest Lap and Grand Slam, all in his first ever race. Vitaly Petrov took a strong second for Renault, succesfully defending from Fernando Alonso in the second half of the race. World Champion Sebastian Vettel could only finish 16th after a number of mistakes and botched pitstops.
Malaysia

[

]
Downton was easily fastest in every practice session for Malaysia but nearly got caught out in Q2 when he attempted to make the final part of qualifying on the prime tyre. In Q3 however he took and easy pole on only 1 run as he abonded his second due to rain. No-one else could improve and Downton easily claimed his second pole. The race was relatively straight forward, Downton led from the lights and only lost the lead when he made his first pit stop. Rain came down in the last 6 laps and forced everyone onto the intermediate tyres for the final three laps of the race.
Teams and Drivers
[
]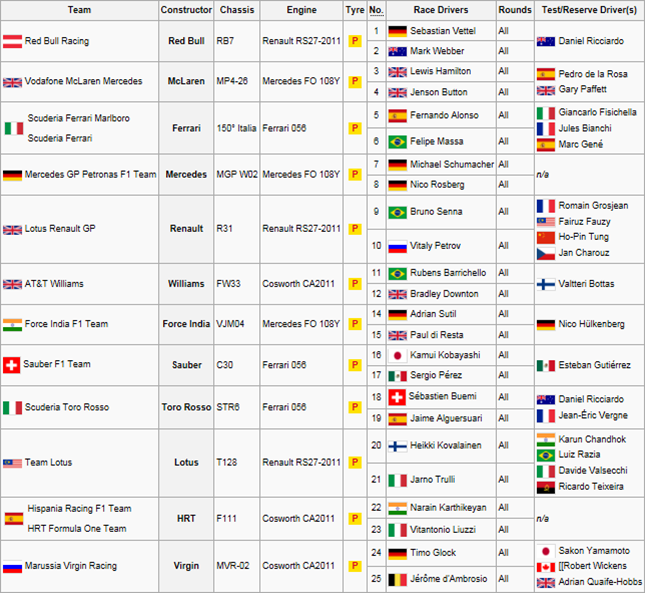 Results and Standings
[
]
Grands Prix

[

]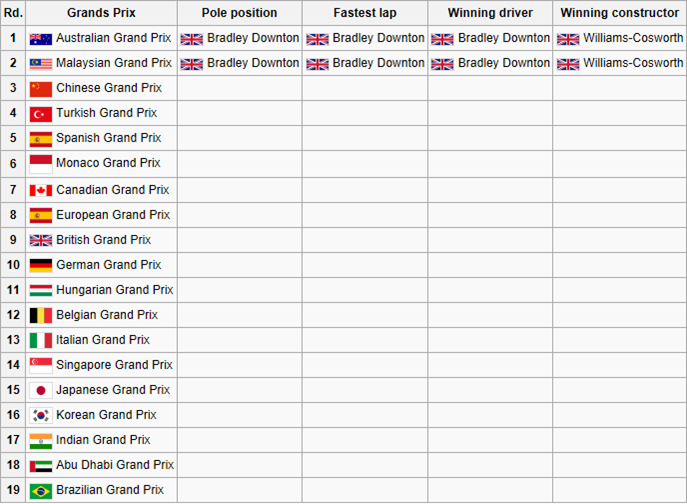 Driver Standings

[

]

'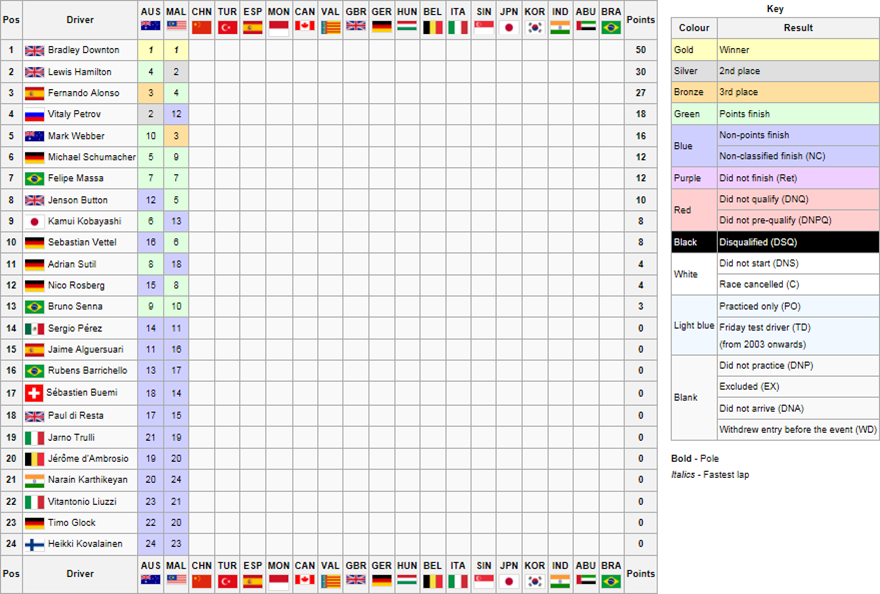 † Drivers did not finish the Grand Prix, but were classified as they completed over 90% of the race distance.
Constructors Standings

[

]