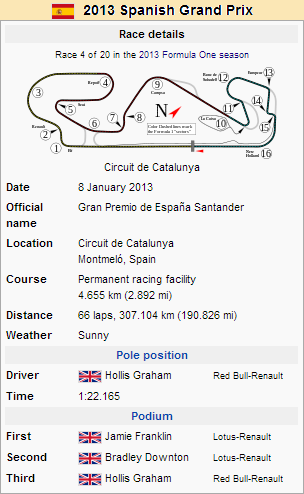 The Spanish Grand Prix was the fourth round of the Random Forum Championship Game Season 1.
Report
[
]
Free Practice

[

]
First practice was dominated by the Lotus cars, who looked to have their race pace off to an absolute tee claiming the top two times and managing to be nearly three tenths clear of anyone else. The McLaren's followed them up with Ingram ahead, Mathershaw 5th for Ferrari and Graham 6th for Red Bull. Andae d'Hazorme performed well for Caterham in 13th with teammate Sunderland not too far behind in 17th. Kaz Armos struggled badly for Force India with a KERS issue down in 22nd.
Jamie Franklin once again topped the timesheets in the afternoon but teammate Downton slipped down the order slightly to 5th. It was Graham in the Red Bull who came closest to Jamie with Widger and Bomeny also seperating the Lotuses. Peter Varga showed strong pace for Sauber in 7th, likewise Kevin Cucamest for Toro Rosso in 10th, while McLaren's William Ingram struggled to 11th. Sunderland showed Caterham still had strong pace with the 14th fastest time and HRT shocked with 18th & 21st. The second Toro Rosso of Ben Needham could get nowhere near his teammate after his car suffered fuel pick-up problems.
Qualifying

[

]
Despite looking strong in first practice, Nic Morley failed to make it out of the first session, with Nicholas Sunderland just pipping him at the post to get into Q2. HRT also did a very good job to out-qualify a Caterham and Marussia, to start in 21st and 22nd for tomorrow's race.
In a mixed-up session, Sunderland was able to take his Caterham to 16th ahead of the Force India. Kaz Armos takes the sister Force India to its highest qualifying position, just missing out on Q3. Shane Butler, was close behind, though his team mate, Tom Robson was able to take his Mercedes into the pole position shoot-out for the first time.
Having been fastest in Q1 & Q2 it looked a forgone conclusion that Jamie Franklin would take pole for Lotus. He did initially, with a very good time, but it was beaten, twice. First by his teammate by 0.001 seconds and then again by Graham of Red Bull by a further 0.002 seconds, meaning there was just a 0.004 second gap seperating the top 3. Kingshark's Red Bull took 4th with McLaren locking out the 3rd row and Ferrari the 4th. Neither Robson or Varga set a time.
Race

[

]
Classification
[
]
FP1 Results (Dry)

[

]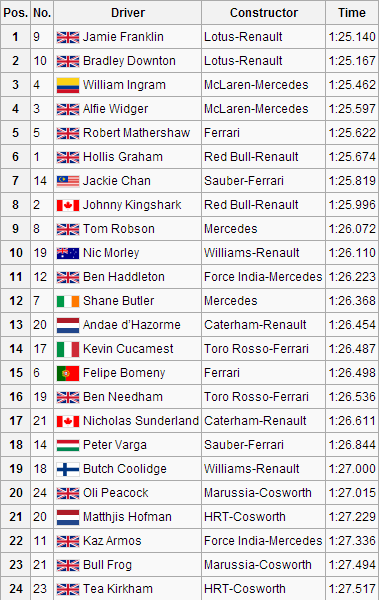 FP2 Results (Dry)

[

]
Qualifying (Dry)

[

]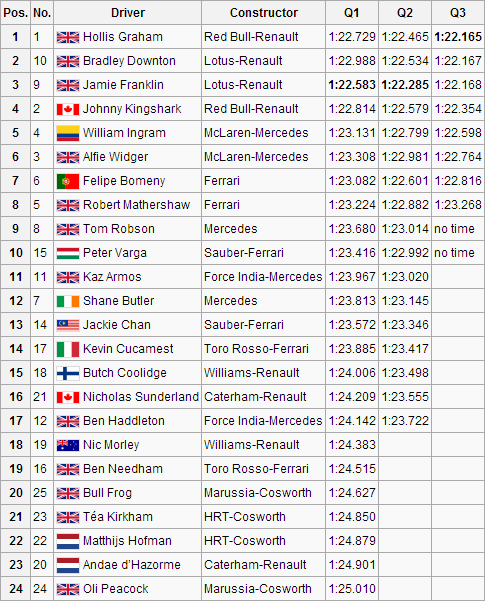 Race Result (Dry)

[

]
Championship standings after the race
[
]